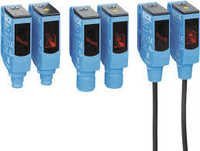 Photoelectric Sensors
Product Description
Photoelectric Sensors
A photoelectric sensors is a device used to detect presence of an object by using a light transmitter or we can say sensors that emit beam of light from its transmitter, often infrared. They are used extensively in industrial manufacturing. There are three different functional types:
Opposed (through beam)
Retro-reflective, and
Proximity-sensing (diffused)
A reflective type photoelectric sensors is used to detect the light beam reflected from the target and the thrubeam type is used to measure the change in light quantity caused by the target crossing the beam.
Features:
Non-contact detection
High response speed
Detection of targets of virtually any material
Color differentiation possible
Long-detecting distance
Highly accurate detection
Highly visible red light spot thanks to the Bright Light LED
Potentiometer for adjusting sensing range
Light/dark switching (DC devices only)
Rotatable connector, cable connection or terminal chamber
Versions for 10 – 30 V DC or 24 – 240 V DC/AC voltage supply
AC/DC (-2Hxxxx) devices are compliant with EN61000-6-3 (electromagnetic interference for "residential, commercial and light-industrial environments")
Stainless steel mounting bracket and P250 reflector (for WL280 only) are included in delivery