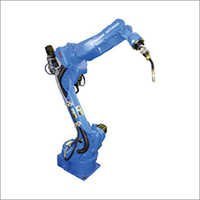 Industrial Robots
Product Description
Industrial Robots
Industrial Robots is not a novel concept but a technology which was born from motion control items that control movements of objects manufacturing industry. The motions become flexible, smooth and 3-D. These industrial robots are widely used in industrial fields for various purposes. An industrial robot is defined as a reprogrammable, multipurpose manipulator programmable in three or more axes and automatically controlled device.

Let's take a look on robot's components:

An industrial robot consists of "controller" which actuates and controls the manipulator, "manipulator" which moves and performs tasks, and "programming pendant" which teaches the manipulator movement. YASKAWA Electric develops and produces all these core components.

Our Robots ranges are as follows:

ARC WELDING ROBOTS
ASSEMBLY ROBOTS
CONTROLLERS
CUTTING ROBOTS
DISPENSING ROBOTS
MATERIAL HANDLING ROBOTS
MATERIAL REMOVING ROBOTS
PAINTING ROBOTS
POSITIONERS
SPOT WELDING ROBOTS
Features:
The robots are used in industrial fields ranging from welding, handling, assembling, painting and semiconductor manufacturing
Amplifiers and controllers are representative components of robots
Robots are perfect for performing monotonous and repetitive tasks
Robot welding has several benefits, including decreased cycle times, improved weld consistency and enhanced efficiency
Robot helps companies for over 20 years to maximize their ROI
Unisys Automation is a best dealer of Yaskawa made Robots.